In an interview with EE Times, Nantero CEO said that its specialists have completed the development of a non-volatile version of DDR4 memory based on the unique NRAM memory cell. Memory NRAM company Nantero develops over 15 years. The cell is based on carbon nanotubes. The NRAM cell switching speed is approaching the performance of typical RAM. For example, the write speed is 5 ns. At the same time, the NRAM does not lose information in the event of power failure. The combination of speed and energy independence make memory on carbon nanotubes an interesting phenomenon in the world of semiconductors. It is interesting only one thing, when will NRAM appear on the market?
Recall, one of the first to produce microcontrollers with built-in 55-nm memory NRAM promised the company Fujitsu. This was to happen in 2018. The management of Nantero reported that this event was postponed to 2019. Since Nantero only creates projects and distributes them based on IP block licensing, the company can not be blamed for delays in production.
As for the development of NRAM DDR4, it is designed for production using a 28 nm process technology, which, incidentally, is ideal for one of the strategic investors of Nantero, the largest SMIC contract manufacturer in China (Nantero is financed through SMIC-controlled structure). The other day, interestingly, Nantero has collected another round of investments, having received a certain amount from 8 companies, 5 of which at one time became the first investors of the company. Especially in Nantero are proud of the fact that its development is funded by companies from the list of the world's top 10 semiconductor manufacturers.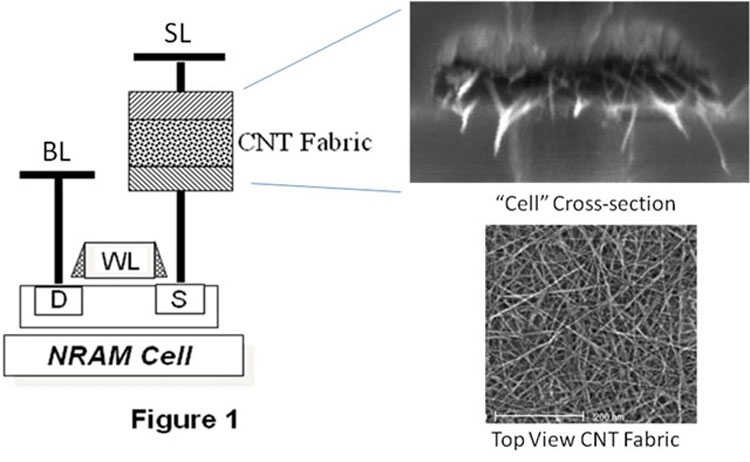 Mass production of NRAM DDR4 memory promises to be no more expensive than the release of DRAM DDR4 memory. This will contribute to two factors. First, the possibility of a multilayer structure, which resembles the structure of 3D NAND. This will increase the density of the recording without increasing the area of ​​the chip. Secondly, the circuitry implementation of the NRAM DDR4 array is much simpler than the DRAM DDR4 array. For example, the cross-sectional structure of NRAM (like ReRAM) requires much less control elements in the form of bus switches than in the case of DRAM type memory.
Finally, the company reported that the development of single NRAM chips for such areas of use as caching buffers for SSD and HDD. Also, the company confirmed its intention to penetrate into the field of automotive electronics (NRAM memory withstands extreme temperatures without data loss) and into the realm of AI (without it nowhere). The reserve for the future is indicated by the fact that the structure of NRAM promises to remain operational in the event of a reduction in the scale of the process technology to 5 nm. NAND and DRAM can not boast of such a memory. For one and the other, the economically viable production limit ends at 15 nm or slightly less.