Google has made it so that planning a trip from a smartphone is even easier than usual. To do this, the company has improved the filtering of prices for hotels and simplified the search for information about the amenities. Also, the Californian giant added the ability to book numbers directly through the search: no longer need to go to different specialized sites, enter the desired dates and specify details.
Google allowed to take into account different aspects of travel when planning flights. For example, if you click on "Google Flights", you can click on "Hotels" at the top of the page to quickly get information about the availability and prices of hotels in the city you are going to. The dates chosen for the flight will be automatically entered in the hotel selection options. The system works the same way if you go from the tab with the lodging to the tab with air tickets.
Under the main row with tabs on the search page you will see the section "More destinations". In it you can see other recommended cities and weekend tours.
"You will also notice a feature called" Your Travels "that will help you to see all of your upcoming and past Gmail bookings," said Eric Zimmerman, a spokesman for the company. This data is confidential and visible only to you, but if you wish, you can send reservation information to friends or relatives.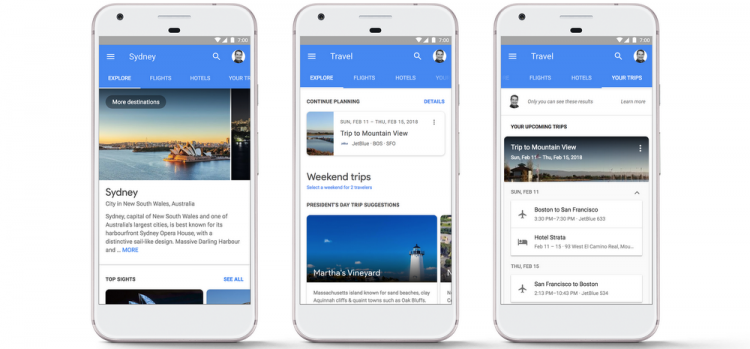 "This feature not only allows you to plan your travels, but also gives you the opportunity to contact travel companies that help implement these plans," wrote Google.
These changes will be available to mobile users in the next few days.